Review Almost Midnight by C.C. Hunter
9:00 AM
We all know how much I'm addicted to certain authors, and C.C. Hunter is one of the big ones! When I got the chance to read this new Novella I was so stoked and I have to say.......well read the review below to see how this one fell on the Addiction Scale.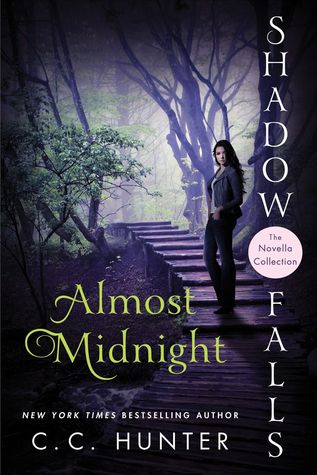 Novella Collection

Nestled deep in the woods, Shadow Falls is a secret camp where teens with supernatural powers learn to harness their abilities and live in the normal world.

Independent and strong-willed Della Tsang did not believe in vampires...until she became one. Chase Tallman is the newest member of Shadow Falls, but what made him into the sexy, mysterious vampire he is today? And what led him to Della Tsang? And for Miranda Kane, magic has always been something she's struggled with, but when an opportunity to test her powers takes her to Paris, she'll have to prove that she's a witch to be reckoned with and belongs at Shadow Falls.

Fans won't want to miss these four remarkable stories of love, magic and friendship.
MY REVIEW:
So ALMOST MIDNIGHT by C.C. Hunter is a compilation of 5 novella's all featuring stories about
some of our fav characters before they came to Shadow Falls or after the first set of books.
Turned At Dusk:
was an older novella about Della before she because a Vampire and how she became one. Della is my 3rd choice of the main 3 girls (Kylie, Miranda and Della) but I gotta say I found it hard to relate to her with how she was before she became a vamp. I always knew her family was messed up from all we learned in the full size books. There wasn't a lot of world building, but I think that's because C.C. was banking on fans already having the world built in their minds.
Overall it was good, but I liked the Della that we first met at Shadow Falls more.
Over all 3 stars for this one.
Saved At Sunrise:
This one was another novella that took place in the middle of the original series and featured Della and her first love interest Steve (a shape shifter who I was all about being with her until I met Chase). This was interesting because I was always curious about this mission Della and Steve went on because we never actually got any real details int eh original series. For me, Steve was the stronger character in
this story, Della annoyed me at certain parts, but I think that's because I have read all of Della's stories and I know how she'd grown so seeing her as how she was felt like a huge set back. It was a good story and I liked finally knowing what
happened on that mission.
Over all this is a 3.5 star for me.
Unbreakable:
This one was the biggest surprise because it was written from a younger POV and it was all abut Chase and his younger years. It was very eye opening and hits you with all the feels! I love Chase but this made me love him even more. The paranormal elements were not really there until the end of the book, and that was a nice change of pace for a series that's all about the paranormal. The other good thing about this is that you don't need to know any of the other Shadow Falls characters, or even the premise of the series to be able to understand this one.
Over all this was a 4 star for me! LOVED IT!
Spellbinder:
Miranda was and still is my second fav girl and I can't say how ridiculously happy I was to get Miranda's story :) However, this is a novella I had read before and have already reviewed so I'll leave you to refer back to that one. Over all a 4.5 star for this one!! One last thing I gotta say: PERRY!!!!!!!!
SPELLBINDER review
Fierce:
Fredrika.........I was never a big fan of her until the last 2 books in the original Shadow Falls five books. From the very start Fredrik was a total b with an itch (to quote Miranda) and was the stereotypical grumpy female werewolf character. She had major daddy issues but has still turned into a really relatable, strong character that drags you along and makes you feel everything she did! She was more real in this book than she had been in any of the other books. This book was really interesting because Fredrika's love interest was Cary, a werewolf teacher at the Shadow Falls school. A bit of a taboo subject given she was one of his students. For me this walked the line of falling into the pervy world and feeling like that fantasy teenage girls had about a hot teacher in school (I had one in college!) I can't believe I'm saying this, but I really have come to like Fredrika and I love that she finally got her own story that ended happily. I just wish we could have gotten a little more from Cary and the were world. I think there's still room for a lot more growth in this series focusing on the many paranormal cultures C.C. has built in this universe!
Averaging all my rating together ALMOST MIDNIGHT hit the 4 star mark, and deservingly so. I really hope that there will be more to come from this series! I can think of so much that can be use dot create more wonderful stories and expand on a great universe. I totally recommend all novellas, and books in the Shadow Falls series!!
They are perfect for YA lovers and Paranormal fans :)
Thanks to C.C. and her publisher for supplying me with the ARC of this wonderful book!
~DynoMoon