Review Girl in the Shadows by Gwenda Bond
3:30 AM
Time for another review, Addicts. This one is for GIRL IN THE SHADOWS by Gwenda Bond.
Read on to see where this one fell on the Addiction Scales :)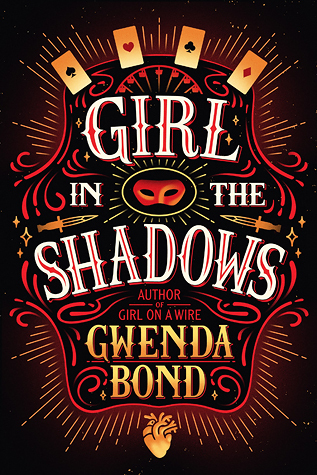 Girl in the Shadows
Gwenda Bond
Eighteen-year-old Moira Mitchell grew up in the shadows of Vegas's stage lights while her father's career as a magician soared. More than anything, Moira wants to be a magician too, but her father is dead set against her pursuing magic.
When an invitation to join the Cirque American mistakenly falls into Moira's possession, she takes action. Instead of giving the highly coveted invitation to its intended recipient, Raleigh, her father's handsome and worldly former apprentice, Moira takes off to join the Cirque. If she can perform alongside its world-famous acts, she knows she'll be able to convince her dad that magic is her future.
But when Moira arrives, things take on an intensity she can't control as her stage magic suddenly feels like…real magic. To further distract her, Raleigh shows up none too pleased at Moira's presence, all while the Cirque's cocky and intriguing knife thrower, Dez, seems to have it out for her. As tensions mount and Moira's abilities come into question, she must decide what's real and what's an illusion. If she doesn't sort it out in time, she may forever remain a girl in the shadows.
MY REVIEW:
Thanks to Gwenda and Xpresso Book Tours for letting me join in on this blog tour and for gifting me a copy of GIRL IN THE SHADOWS in exchange for my honest opinion.
GIRL IN THE SHADOWS is the prequel to Gwenda's
GIRL ON A WIRE
book, so you don't have to have read the first to appreciate this one. And appreciate it I did.
Overall this was a good read, quick and interesting and I really enjoyed the idea of the world of traveling circuses and magic.
Moira was an interesting heroine, kinda annoying at time, but many YA girls are. I liked that she wanted something and went for it, though her parental issues need to be worked out more. This book had a slower, much less action and adventure pace and feel that made it hard to keep on reading at certain points, but I am glad that I did finish this. The ending was a decent one.
My real problem was, that as cool as the magic/circus world was, it wasn't fully developed. Same with all the characters, even the heros and supporting ones. I think if those things had been much stronger, this book would have been a fantastic read.
In my own opinion, if a book isn't going to be packed with action, adventure or untypical drama, then there needs to be another really unique, attention grabbing element that hold a reader and makes the story really sparkle. This totally cool cover does a good job of drawing people in, but the story just didn't follow through.
Overall, not bad; I will recommend this, and I will, most likely, pick up the other book in this series at some point.
-DynoMoon
ABOUT THE AUTHOR
Gwenda Bond is the author of the young adult novels Lois Lane: Fallout and Girl on a Wire, among others. Lois Lane: Double Down and Girl in the Shadows, a companion novel to Girl on a Wire set in the Cirque American, are next up in 2016. She's also hard at work on some secret projects you don't know about yet.

Her nonfiction writing has appeared in Publishers Weekly, Locus Magazine, the Los Angeles Times, and many other publications. She has an MFA in writing from the Vermont College of Fine Arts. She lives in a hundred-year-old house in Lexington, Kentucky, with her husband, author Christopher Rowe. There are rumors she escaped from a screwball comedy, and she might have a journalism degree because of her childhood love of Lois Lane. Visit her online at www.gwendabond.com or @gwenda on Twitter.