Review Cast in Angelfire by
4:00 AM
Alright Addicts, time for another review, this one is for S.M. Reine's CAST IN ANGELFIRE! Read on to see where this one fell on my Addiction Scale :)

Cast in Angelfire (Mage Craft #1)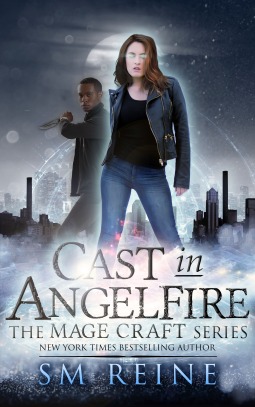 by
S.M. Reine
Eighteen-year-old Marion can't remember anything before waking up in the hospital. All she knows that a lot of people want to kill her. And her would-be assassins are not human…
Vampires are real. So are faeries and angels.
They all want Marion dead.
Surrounded by enemies, Marion turns to Lucas Flynn: a mysterious doctor who seems to know more than he's letting on. He's as good with a gun as he is with a scalpel. He fights like a demon but claims that he's human. And he's hellbent on protecting Marion.
Lucas claims that Marion is a mage: half-witch, half-angel with terrifying powers that could crack the world. But Marion can't remember how to cast magic any more than she can remember where she comes from.
Marion must find her identity and her power…before the forgotten sins of her past catch up with her
MY REVIEW:
Thanks to the author and publisher for gifting me a copy of CAST IN ANGELFIRE through Netgalley in exchange for my honest opinion.
And my honest opinion is.........mehh, okay.
Let me start by saying I have never read anything by S.M. Reine before, and had I realized that this book was the start of another series in an already well established world, I probably wouldn't have requested it. But that's only because I felt, through the whole book, that there were just so many things missing or that didn't make sense to me, little things, that I realized at the end came from her previous books.
This is not to say I didn't enjoy the story, I did--for being a post-apocalyptic universe, which all of my Addicts know I'm not a fan of.
Marion was my biggest problem with this book, outside of the small detail that went over my head. I didn't ever connect with her and she was so freaking arrogant and entitled for a girl that didn't have any memories. I give S.M. full credit for changing up the missing memories trope and making it her own, not an easy thing to do, but I would have liked that aspect, and her getting those memories back, to have been a little more fleshed out.
Lucas was a cool hero/doctor, I liked him alot and I felt he was a much better character than Marion.
For as much as I didn't get it all, I do think S.M. did a great job in building this universe, that is clearly very popular, and I love how creative she was with her vampires, witches, faeries, angels and werewolves. Clearly this author has a great and very unique imagination that the brings to life very well.
I might go and pick up one of the first books in this series, to see if I can understand the world a little more.
Overall a good read and I would recommend it to paranormal fans, with the caveat of making sure they read at least part of the series that set up this universe.
-DynoMoon