Review Bright Blaze of magic by Jennifer Estep
9:39 AM
The reviews just keep on coming and I've got my review for the third and final book in Jennifer Estep's Black Blade series: BRIGHT BLAZE OF MAGIC. Read on to see if this final book was as great as the first two!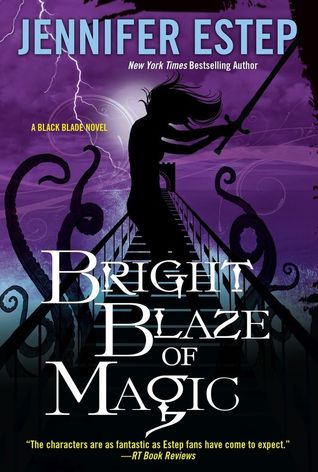 "The characters are as fantastic as Estep fans have come to expect." – RT Book Reviews
Bad Things Always Come In Threes…
As a thief, I'm good at three things: hiding in the shadows, getting in and out unseen, and uncovering secrets. I put these skills to work for the Sinclair Family, one of the magical mobs that run the tourist town of Cloudburst Falls.
Everyone knows Victor Draconi wants to take over all the other Families--and kill every last Sinclair. What they don't know is that I'm on to him, and no way will I let the man who murdered my mom get away with hurting all the other people I care about. Especially when I've got places to break into, stuff to steal, and Devon Sinclair fighting right by my side…
MY REVIEW:
BRIGHT BLAZE OF MAGIC was gifted to me in exchange for my honest opinion...and that opinion is WOW!
This was a thrilling ending to a great series that I wish we could get A LOT more stories out of. Lila and Devon are easily one of my favorite YA couples to date, just as Lila is one of my top 5 heroines!
She's tough, smart, human, witty, brave and so damn loyal its inspiring.
I love her and Devon together because while they both have great chemistry and are always looking out for the other, they trust each other to get things done without the other needing to be there. It's a rare thing in YA romances. I think that's why their relationship feels so real and just sucks me in so deeply!
Clearly, since this story does center around magic mobs, family is a HUGE factor, but the fast paced, thrilling plot for BRIGHT BLAZE OF MAGIC goes much deeper that that. As much as these characters are defined by their magic, they are more defined by their families, those they consider family, and how those relationships shape them. Deah, daughter of the bad guy family, is the perfect example of just how much family matters and what that bond can make you do. And it was perfect that Felix got his happy ending along with Lila and Devon!
This book was a rollercoaster ride of action, all the feels, romance and all out mob war that I was on the edge of my seat the entire time, and glued to every word.
This is the second YA series I've read and LOVED by Jennifer Estep. I totally appreciate her gift for leaving her readers feeling giddy and satisfied at the end of her series, even though it breaks my book nerd heart to see it come to a close.
I highly recommend the entire BLACK BLADE series to all YA fans!
-DynoMoon-