Review REAWAKENED by Colleen Houck
9:00 AM
Hey Addicts!!! Long time no review :) It's been a summer and there's still more book greatness to come. Because of my summer hiatus I have decided to do a week of reviews, covering several of the books I've read in the last month or two. All the books reviewed are ones I've greatly enjoyed and think you all will enjoy as well.
I was crazy excited when a friend of mine came back from a big book conference with a bag full of books and ARCs for me! I literally did a crazy happy dance :) I was even more thrilled when I saw that one of those books was an ARC of Colleen Houck's REAWAKENED! I have been itching to bet my greedy book paws on this little beauty.
Now that I have read it, it's time for a review before the book gets released to the general public. Read on Addicts.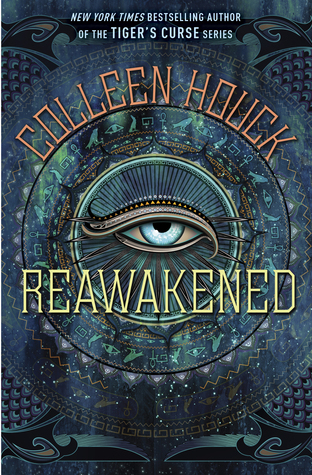 Reawakened

(The Reawakened #1)
When seventeen-year-old Lilliana Young enters the Metropolitan Museum of Art one morning during spring break, the last thing she expects to find is a live Egyptian prince with godlike powers, who has been reawakened after a thousand years of mummification.

And she really can't imagine being chosen to aid him in an epic quest that will lead them across the globe to find his brothers and complete a grand ceremony that will save mankind.

But fate has taken hold of Lily, and she, along with her sun prince, Amon, must travel to the Valley of the Kings, raise his brothers, and stop an evil, shape-shifting god named Seth from taking over the world.

From New York Times bestselling author Colleen Houck comes an epic adventure about two star-crossed teens who must battle mythical forces and ancient curses on a journey with more twists and turns than the Nile itself.
I have been dying to get my hands on this book since I heard about it. Major thanks to my friend for snagging me an ARC at the book conference she went to. I've wanted this so bad, not only because I'm a fan of Colleen Houck--her great world building and characters---but because of her writing style and attention to detail. When I finally got to sit down with REAWAKENED I devoured this amazing treat in one night.
The basic story deal: Lily--a very sheltered, slightly spoiled rich girl accidentally awakes an Egyptian mummy. But this dude is no mummy from the Mummy Movie franchise--No No!
This mummy, Amon, is a hot Egyptian prince who, along with his two "brother" princes are to awaken every 1000 years to complete a ritual that keeps Seth (bad Egyptian dude God) from getting a foot hold in the real world and unleashing his own kind of armageddon on us unsuspecting mortals. Of course, like all good fantasy books, $hi+'s gotta go wrong!
My absolute favorite things about this book:
The magic--especially the "sandblasting" way of travel
Ahmose-- one of Amon's brother princes (I am kinda leading towards him being my fav of the three princes)
Anubis-- Egyptian god and totally a character I hope to see more of!
Amon-- the hero and as much like Ren (from Colleen's TIGER'S CURSE series) as he is different from Ren. If that makes sense. I like him a lot.
The action-- much like TIGERS CURSE this book was filled with temples, tombs, booby traps, epic battle scenes and some scary, bada$$ monsters. I LOVED it. It's what kept me up to finish the book all in one night.
The relationship between the three brother princes-- LOVED IT. I wanted a lot more of it though.
There are plenty of other great/cool things about REAWAKENED that I like: Lily and Amon's romance, the history and the creative way Colleen made the stories and histories her own so that they fit into the amazing world she has built. There's also the world building, the pacing, the myth behind the gods, and the unique way Lily and the Doc work together to help Amon and his brothers save the world. I won't say any more so I won't spoil the ending, but I gotta say, pretty cool.
There were a few things I wasn't 100% down with:
The time it took Amon to awaken his brothers.- As said above, I love the dynamic between the three boys Amon-Asten-Ahmose, but Asten and Ahmose get awakened so late in the book that we don't get a lot of chance to see all three of them them all together and at their best. I give full credit to Colleen, despite their small amount of page time, for building Asten and Ahmose so well that I instantly loved them both and just have to have more! I am hoping we get A LOT more of them as the series continues
The bad guy (outside the evil god Seth) I knew right away who the bad guy was going to be, so that didn't really shock me. What didn't sit well with me was how how sudden he's BAAM-crazy bad dude without a lot of lead up or good explanation. I think this part needed to be more polished.
I wanted more from Amon. I think this is why he's not really my favorite of the heroes. Yes, REAWAKENED is told from Lily's POV but in Tigers Curse it was the same way, but we still got a really good read and feel for what Ren and the other characters were feeling and experiencing. That aspect felt lacking with Amon. If there had been a little more of his feelings Amon would hands down be my favorite. I also think it would have helped made Lily and Amon's relationship a lot stronger.
My last, and biggest issue: Lily's absentee parents. Yes, right from the start it's set up that Lily is often left alone by her high powered , obsessive, and controlling parents but when she disappears to Egypt with Amon without any kind of excuse or word to them I'm like huh.....yeah, you can get away with it for a day maybe two, but over a week missing and her controlling parents aren't going bat $hi+ crazy?????? It's not believable. If there had been a few scenes where she had to duck phone calls or emails or texts or her parents trying to contact her or Lily having Amon whammy them so they don't freak out, then I would be good. But right now, not so much.
Considering the absentee parents was my biggest problem, REAWAKENED was still a great read and a nice start to a new series. My thought in a nutshell: GREAT world building and creative imagination. I loved the princes and the gods (Anubis ;P) I enjoyed Lily- though I hope we get to see more life and personality and character growth out of her as the series continues. The action and LACK of a love triangle.
Overall I totally recommend REAWAKENED to all 12+ year old fans of adventure, romance, fantasy and Egyptian myth.
Now I've got to control my itching fingers for book 2 of the series!
You've seen the books pictured above, now is your time to enter to win! I will announce the winner here on the blog on Monday the 27th! Once the winner is announced they will have 7 days to get in contact and claim their prize, or I will choose another winner. So don't forget to check back :)
~Dynomoon
a Rafflecopter giveaway