Review LEGENDARY AND CLAIMING EXCALIBUR by L.H. Nicole
9:00 AM
Alright Addicts, it's Friday and the last of my week long reviews. I thought I'd end this week of high rated reviews with a series that became more than a slight addiction for me over a year ago. I will say right now L.H. Nicole, author of LEGENDARY and CLAIMING EXCALIBUR--books 1 and 2 of her YA king Arthur series--is a friend. BUT that only came about after I read her books. I promise you, I am not rating her books so highly because of our friendship. I truly LOVE and am addicted to the way she tells this story. So read on my fellow Addicts!
Aliana Fagan spent her childhood traveling the world, dreaming of legendary heroes and mythical lands. But after the sudden death of her parents, she hides behind the safety of her camera and her art until a vivid recurring dream compels her to dig into her father's research about Avalon and Camelot. When she is hurled into a magical realm by forces she thought were only the stuff of fairy tales, she finds herself thrown into an adventure she could never have imagined. Nearly everything she thought she knew about Arthurian legend was wrong. The independent eighteen-year-old is shocked to find that the people of Avalon think that she is the Destined One, the only person who can summon King Arthur back to life from his hidden chamber. Most surprising of all is that it's up to her to lead the Knights of the Round Table on an epic quest-an adventure that will transport them across the seven magic realms to reclaim all that has been lost so they can defeat the evil Mordrid for good. But first, she must bring the ancient warriors into her world and reunite them with their lost brothers. Chaperoning the legendary knights-with-a-chivalry-complex as they navigate the modern world is a constant challenge, and she certainly never thought she'd be caught between her intense feelings for the noble Sir Galahad and her growing friendship with the King. To fulfill the prophecy, Aliana will have to discover the meaning of friendship, bravery, loyalty, true love, and forgiveness. But can she do it all in time to save the realms from Mordrid's impending Armageddon?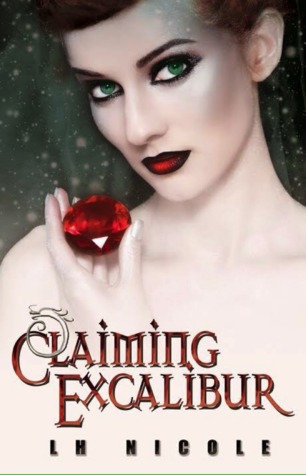 Aliana Fagan has done what many thought impossible: she's awakened King Arthur from his fifteen-hundred-year sleep, reunited the Knights of the Round Table, and even beaten Mordrid and Morgana LeFay in battle.

But the Destined One's quest has only begun.

Before the knights can "unearth and reclaim their lost relics" they must survive the trip to Charleston, South Carolina and meet the newest member of the Round Table. If King Arthur's men thought Aliana and Lacy were tenacious, they'll be even more surprised by Dawn, the third member of the fem-trio.

Deadly secrets, unexpected allies, and a traitor lurking in the shadows await Aliana and the new Round Table as they continue their search for Excalibur. Their only clue is a beyond confusing poem from a mysterious book that speaks of a terrifying creature guarding the legendary sword. Trying to build a somewhat normal relationship with Sir Galahad adds a whole new level of complexity to Aliana's task, especially when several among them suspect the White Knight may not be wholly himself. Her friendship with King Arthur grows closer, and when circumstances become intense, he may finally get the chance with Aliana that he's been pining for.

Mysteries, legendary quests, and haunting memories will either unite the members of the New Round Table or fracture their bonds. Aliana and her crew only have seven months before the planets align and Mordrid can seize the power he needs to conquer the seven realms. Can the Destined One keep her new family together and lead Arthur to his destiny of saving the realms? Or will a centuries-old plot for revenge finally spell the king's end?
MY REVIEW:
Since this is a two book review I will try to not give away too many spoilers. Many of my Addicts know I have a major thing for King Arthur stories/TV shows so when I found LEGENDARY by L.H. Nicole, over a year ago I was thrilled. So many King Arthur stories are historical or some kind of retelling of the King and his Knights and Merlin. The reason this book stood out so much, for me, was that this is NOT a historical and NOT a retelling. It is a totally original, rich, enthralling series packed with everything you could want in a book. The author really took the legends and made them her own with amazing plot twists, vibrant and fantastical worlds, and characters that will stick with you long after you finish the books.
To quote the author, this is a continuation of King Arthur's story, in modern time.
There is just SO SO SO much I want to say about these two books but I know I can't drag on too much so I'll hit the highlights.
When I bought LEGENDARY I admit it took me a few weeks to pick it up, but once I did.....WOW, I read through the first book in the series in one night and was left dying for book 2.
This series has set up one EIPC universe--or the seven realms, as its referred to in the books. At first I was like this is going to be too much, but thankfully, in LEGENDARY, we only see two realms--our real one, the mortal realm, and Avalon.
What King Arthur story is complete without Avalon? None, IMHO. Point to L.H. Nicole.
Our heroine, Aliana is not your typical teenager. She seemed to have grown up sheltered, for girl that traveled the world with her globe trotting parents. She was pretty broken when she first stumbles into Avalon and her destiny as the prophesied "Destined One". (Yeah, I rose a brow at that one too, but it ended up working in the end.) Despite her emotional state she is a strong, slightly smart mouthed character who is way braver than she gives herself credit for. I LOVED her, she's so easy to relate to and her voice is a fun one to listen to.
Then she finds and saves a Dragon, who seems like a he could be a cousin to Mushu. And, more importantly, she saves Sir Galahad. WOW, talk about alpha male hero. I love him; but I'll get to him in a second. Back to Aliana. She also ends up reviving King Arthur and once they return to our world, the pace picks up and the Knights of the Round Table seem to just come out of the wood work! Not that that's bad, I love the whole huge cast, I just wish the scenes where they appear could have been drawn out more.
I have to do King Arthur next. OMG, what a king. This King Arthur also isn't the typical medieval Arthur, no no, this is a Roman Britain era King Arthur, and I just can't get enough of him, seriously, I needed more! His character was well developed, he's strong and resilient and charismatic, but I really wanted more scenes that were focused on him. At least that was how I felt in LEGENDARY. When I finally got to read CLAIMING EXCALIBUR I got exactly what I wanted and man was it swoon worthy.
Back to Sir Galahad. Like all YA books we need to have our hot heroes and Galahad is chief among them. He's brooding and a total he-man, and man that first kiss he lays on Aliana..... I needed a fan it was so hot. Setting aside his hotness, I think my favorite thing about Galahad was his loyalty to Arthur, his brother knights and now to Aliana. I think my favorite scenes were actually when he was learning about modern technology and the world today. I was flat out dying when he talked about breaking a cell phone!
Of course we also have the other knights: Lancelot and Merlin (yes he is a knight as well as a Druid!) and then there's the others. Here's where it gets really unique. All the knights--except Merlin and Lancelot Galahad and Arthur--are reborn into the modern world.
I may have lost you here, but I promise it's a really simple explanation. Arthur and his men made a deal with Titania, queen of the Fae, to save Arthur's life after Mordrid nearly killed him and did kill most of his men. The knights who died in the original battle of legend: Gawain, Owaine, Leyon and Percival were all reborn in our time, with no memory of who they were. Until Aliana finds them and Merlin restores their memories.
I said before that we have a very large cast, and I'm talking about more than just the knights. There's also Aliana's two best friends Lacy and Dawn. Dawn doesn't come until book 2 CLAIMING EXCALIBUR but they are kicka$$ in their own rights. I don't think such large cast would have worked as well without the paragraphs at the beginning of each chapter. Another thing I love about these books: each chapter starts with a glimpse into another character, including the bad guys Mordrid and Morgana! It was so great to see little bits form the other characters and get their take on things. Outside of the depth each character has, these paragraphs made the cast so much more. I especially love the ones from Galahad and Arthur because they're so swoon worthy :)
LEGENDARY is a little slower (only int he very beginning) than CLAIMING EXCALIBUR, but both books are packed with drama, tension, action, comedy, loyalty, hot guys, betrayal, epic bad guys and battle scenes, wicked cool magic and heart fluttering romance.
Warning--this is a love triangle and insta-love BUT they are all done in a slightly different way, and if you pay enough attention at the end of book 1 and through out book 2....well, I get the feeling that the "instal-love" may not be like we think it is. But that's just my own thoughts. I can't get L.H. to confirm or deny. I guess I'll have to wait for book 3 and 4 to see if I'm right. One thing for certain: I will be getting my hands on those next books ASAP and in any way I can ;P
Overall this series is perfect for teens, lovers of YA, BBC's Merlin, King Arthur, epic fantasies and romance. I will say that there is some very heavy situations talked about in the book and there are plenty of death scenes. So I recommend teens under 13 don't read unless their parents have looked it through first.
:)
~Dynomoon