Review SILVER IN THE BLOOD by Jessica Day George
8:00 AM
It's Tuesday in my week of reviews, Addicts and today I've got a review of a book I picked up from NetGalley. It's called SILVER IN THE BLOOD by Jessica Day George.
Yes, it's historical, I think a first (or maybe second) on my blog, but I promise this is one you'll want to read about. Read on my book Addicts!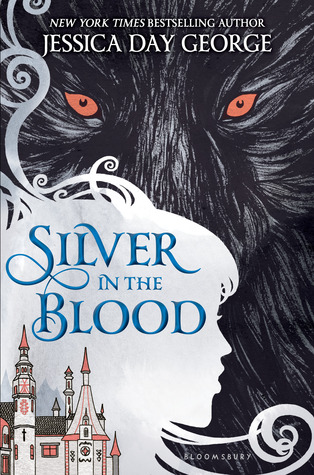 Silver in the Blood

(Silver in the Blood #1)
A New York Times bestselling author brings dark secrets to life in a lush new YA perfect for fans of Libba Bray or Cassandra Clare.


Society girls from New York City circa 1890, Dacia and Lou never desired to know more about their lineage, instead preferring to gossip about the mysterious Romanian family that they barely knew. But upon turning seventeen, the girls must return to their homeland to meet their relatives, find proper husbands, and—most terrifyingly—learn the deep family secrets of The Claw, The Wing, and The Smoke. The Florescus, after all, are shape-shifters, and it is time for Dacia and Lou to fulfill the prophecy that demands their acceptance of this fate... or fight against this cruel inheritance with all their might.

With a gorgeous Romanian setting, stunning Parisian gowns, and dark brooding young men, readers will be swept up by this epic adventure of two girls in a battle for their lives.
SILVER IN THE BLOOD by Jessica Day George had many things all rolled up into one very exciting package: two dynamic heroines, wonderful and yummy romance, action, intrigue, secrets, and a detailed world building that could possibly rival some of the more popular fantasy books in YA with more development and time.
The cover of this book was the first thing that caught my attention. I knew as soon as I saw it, this would be a werewolf book. And then I read the blurb and saw that the setting was 19th-century Romania and I knew right away that there would also be vampireness to go along with the mix. While I'm not normally a fan of historical books this one promised so many great things that I knew I just had to try and get a copy from NetGalley in exchange for my honest review. Major thanks to them and the publisher for allowing me to read an ARC.
SILVER IN THE BLOOD is told from two points of views. Dacia and Lou, cousins from New York City who find themselves transported to Romania along with their families so that they can learn the family secret. This is where the I am the CLAW the WING an the SMOKE bit comes into play.
The book starts with a letter from Dacia to her cousin Lou talking about an "incident" that happened while she was in London; an incident that spurned her mother and grandmother and aunt to send her to the family home in Romania. Throughout the book there are lots of these little letters all from our heroines, our heroes, their allies, and while they were all very intriguing (some of them lent itself more to the plot than others) I would've been happy if they had cut them all together and found another way to work the information into the storyline.
There were three things that really stood out about this book for me; the first and the greatest was the the bond--the more than sisterly friendship-- between Dacia and Lou. They are cousins, they are family, but it goes beyond that---they are each other's best friends and greatest support. The dynamic was so exciting because they were exact opposite of each other. Lou was quiet and reserved and would do what was asked of her. Dacia was outgoing, spunky and a bit of a rebel. As the story went on, they pushed each other, forced themselves to grow up and finally become more comfortable in their skin. By the end of the book they both had developed into more mature versions of themselves and that's something that's not often accomplished in YA, and especially not in the first book.
But the girls family is more dangerous than they realized. After they find out that Lou is able to turn into smoke and Dacia is able to shift into a wolf, their own families try to keep them prisoner within their own home. Dun Dun Dun...in the spirit of twister historical and paranormal YA books, the girls realize their grandmother, mother and aunt and very naughty schemers trying to gain power! Dacia and Lou know they've got to get out and get away from their family before things get really bad.
Time for the second thing that made this book so great. Lord Johnny and Theo are our heroes, and the girl's love interests. They don't show up until about half way through, after the girls have learned what they can do because of their family's blood and are trying to high tail it out of the country; and once they do make their entrance we find out that they are both members of a group called the Archangels.
The Archangels are a group that fight against Prince Mihai (the "vampire" and by vampire I mean Vlad the Impeller version, not Bram Stroker) and his evil plans to over throw a king!
Both boys are great in their own way, and are perfectly matched to the cousins! I loved the build up (though I really wanted a little more) between Theo and Lou, especially the misunderstanding that started them off on the wrong foot. And Dacia and Lord Johnny.....the banter and chemistry were amazing from the start and all the way through to the end. I really would have liked MORE romance, but considering I think this is intended to fall at the younger end of the YA spectrum, I can understand why it didn't pack as much punch as other YA books do in the romance department.
The third part that made this so amazing for me was the action and the epicness of it all. Plus, while I suspected there would be werewolves, the plot took twists and turns that I hadn't expected. Always a big plus.
The only thing that made this book so hard for me to get through, at least at the beginning, was the vey slow pacing. I loved the attention to detail and the world building that came from the slower pace. Compared to the last half of the book, the first half was seriously lacking. Maybe that was because the boys appearing made things so much more fun and intriguing.
Not that the whole family mystery, pulse pounding action and fight scenes weren't great---they were-- but I am such a sucker for the tension that romance always brings to a story.
The way SILVER IN THE BLOOD wraps up makes me strongly believe that this is only the first book in a series, just maybe that the publisher wasn't sure if it would be a success and wanted to make it able to be a standalone just in case it doesn't get very popular. A problem I am fairly certain they don't need to worry about. If there is a second book you can bet I''ll be picking it up as soon as possible! Overall I highly recommend this book to paranormal, historical, fantasy, action and YA fans.
Here's the reminde
r: I am hosting a special giveaway for the week. I've got three amazing books up for grabs so don't be shy about entering!
Now is your time to enter to win! I will announce the winner here on the blog on Monday the 27th! Once the winner is announced they will have 7 days to get in contact and claim their prize, or I will choose another winner. So don't forget to check back :)
~Dynomoon
a Rafflecopter giveaway