Review Unspoken by C.C. Hunter
5:39 PM
Alright Addicts, get ready for a fan girl review because I've got another from the universe of C.C. Hunter and her Shadow Falls series: UNSPOKEN

I'll try to keep myself in check, but no guarantee, LOL. So read on my book Addicts!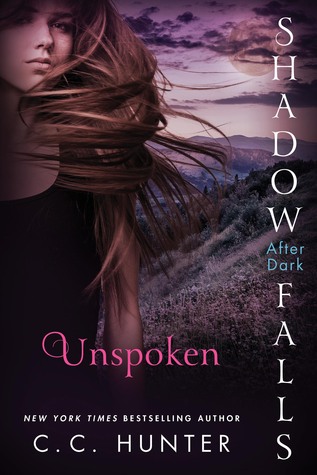 Unspoken
(Shadow Falls: After Dark #3)
Despite her superhuman strength and enhanced senses, Della Tsang's life as a vampire certainly hasn't been easy. Especially since she was reborn and bound to the mysterious, infuriating, and gorgeous Chase Tallman.

But if there's one thing that's always kept Della going, it's her dream of being an elite paranormal investigator. Her newest case is the opportunity she's been waiting for, but as Della tries to solve the twenty year old murder and clear her father's name. She uncovers secrets about the vampire council. And about Chase.

Feeling betrayed by all the secrets he's kept hidden from her, Della is determined to keep him as far away from her heart as she can. But she'll need his help to solve the case that will lead them into the darkest and ugliest vampire gangs in town and into the scariest reaches of her heart.
What an ending!! UNSPOKEN=
WOW
!
I will fully admit I didn't
love
Della's books (REBORN, ETERNAL and this one UNSPOKEN) the way I did Kylie's books (first 5 books of Shadow Falls series) yet Della's story still managed to smack me with all the feels!
Della Tsang, Kylie and Miranda are by far one of my favorite YA heroine trios! Always have been! They are so different yet fit together so well with the radically different personalities and chemistry.
Speaking of chemistry: Della and Chase! YES please :D
I love them so much! He's there for Della, had been from the start--despite his singularly stupid decision to keep a huge secret from Della for ages...but that was an ETERNAL plot point that carried over into UNSPOKEN. Chase changed his life for Della and really grew into a
great
character.
The love triangle that was a thing in the first two books wasn't really a thing in this one. It was Della and Chase all the way! Poor Steve.................
Here's my thing, though. As said above Della is not my fav of the girls so getting into her story as much as I did Kylie's and Miranda's took time. But the fact that I still came to care so damn much about Della and Chase speaks volumes to the incredible talent of C.C. Hunter as an author.
UNSPOKEN was a wonderful book, but not how I want the story of Shadow Falls and it's students to end. Thank GOD C.C. Hunter herself told a friend of mine--who is also a huge fan of C.C.-- that there's more possibly coming--several short stories about other characters!! YEAH!!!!! Happy dance!!!!!!!!
My biggest woe with UNSPOKEN was how so many of the great characters of the Shadow Falls universe--who usually manage to have a good presence in the other books--just felt thrown in for most of the book. I didn't get nearly enough of the kick butt K/D/M charlie angel's type feeling that they normally have.
Plus there was so much of Jenny/Derek/Perry/Miranda/Lucas/Kylie/Holiday/Burnett moments I wanted that I felt deprived. So many other great and relatable characters are in this series I can see how it can be a challenge to do them all justice and not take away from Della's story, so I
kinda
understand, but not really.
Again--this speaks to Hunter's amazing talent at creating "real" characters. She always finds the right amount of humor, romance, action, twists, drama and all around fantasticalness in each book. I wanted to hug and cry for Della so many times, I cheered for her and was not eh edge of my couch needing to see what happened next.
UNSPOKEN is slightly darker-mostly because of the more upfront interaction with the vampire gangs- but it's good and will please any fan of Shadow Falls with it's ending!
Now all that's left is to get those possible, last few short stories that should be coming down the pike, hopefully :)
Do I recommend this: HELL YES!!!! I recommend every single book and ebook short in the series!!
Ciao
~Dynomoon