Review Sweet Liar (Candy #2) by Debra Doxer
9:00 AM
Time for another review, Addicts and this is for the second book in Debra Doxer's Candy series SWEET LIAR! Read on to see where this one fell on the addiction meter.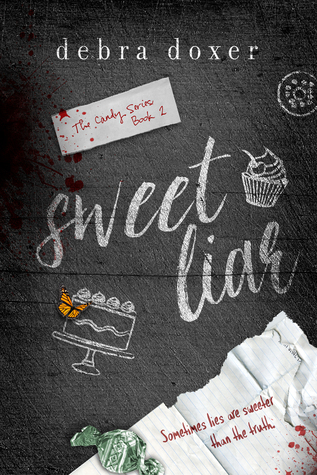 Sometimes lies are sweeter than the truth.

Beauty is alluring; it can disguise the ugliness beneath. But scarred beauty is even more potent to a girl who vowed never to let her heart be broken again. It was an easy vow for Candy to keep until she met Jonah, an arrogant boy with a face that would be too perfect if not for the scar that marred the skin beside his eye.

That imperfect boy earned her trust and won her heart, but the ties that bind people together are fragile, especially when lies are told. Trust is also fragile, and once broken, doesn't heal like a heart. Trust has to be earned again, and Jonah desperately wants Candy's trust back.

But Candy has more than Jonah to worry about. Her father is in trouble, and she intends to help him whether he likes it or not. People tell her he's a bad man, and that may be true, but he's not all bad. Deep down, she understands his brand of badness because she's so much like him.

When Candy finally learns the truth, she'll have to grow up fast, let go of old grievances, and realize that being vulnerable doesn't make her weak. In fact, opening herself up may be the very thing that makes her whole again.
Candy is back people! Finally I have the 2nd and final book of this duology. I reviewed LIKE CANDY, the first book of the series, a few months ago.
Click this link if you want to reference that review first so you'll have a better grip on this one
.
My biggest problem with LIKE CANDY was the way it ended. It left off like the end of a chapter, not the end of a book. Fortunately SWEET LIAR picks up right where it was left and we don't have to wait long to find out who......er....um...well who Candy shot. Yup I said it, spoiler alert!
Quick refresher, Candy is the only child of a widower--her father--who is an operative for some unnamed non government group of spies that never really get explained. She thinks her dad works for the CIA, but not true, as she shockingly discovered in the world of lies, betrayal and secrets she'd stumbled into. And those are totally not her biggest problems!
That would be Jonas--the hottie undercover 20 something year old that totally stole her heart-- his car-cra father and the charges of treason on her now in-prisoned father.
The whole book is driven by her need to find the truth, get revenge, clear her father's name so he can come home, and find a way to heal her betrayed heart and best friend dying of cancer. (NO this doesn't turn into a magic type thing, it's science all the way on the cancer front)
All the characters from book 1 are back, and we finally get answers that were never given in LIKE CANDY for so many things. The characters were wonderfully featured to also tell their own stories, yet not take anything away from Candy and Jonas's story.
I want to say so much more, but if I do I'll give away the whole book, more that I already have above.
I'll leave it at this: you're not going to see a lot of the things that get thrown at you coming, and the story goes in a lot of interesting directions! I loved getting to see more of Jonas--who he really is and learning about his past that just made him more of a hottie hero in my book. And I felt like every character got their just desserts in the end :)
Debra Doxer definitely has a winning pair of books on her hands here, but I totally recommend having both ready at hand so you can go from LIKE CANDY to SWEET LIAR with out having the horrible hangover cliffy I had to deal with. I enjoyed this series, and most likely will enjoy what ever Debra writes next!
Caio Addicts!
~DynoMoon