Review Canvas Bound by Laura M. Kolar
9:00 AM
Hey Addicts! once again, it's book review time in the Palace of YA. This review is brought to you from Netgalley, Laura M. Kolar and CANVAS BOUND! Read on to learn more ;P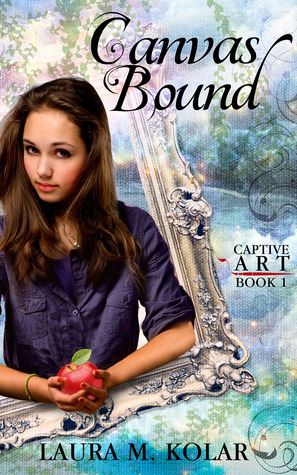 Canvas Bound
Sixteen-year-old Libby Tanner's art comes to life. Her painted skies turn from day to night, leaves rustle on trees, and sometimes, a mystery boy appears.
While attending England's Aldridge Art Academy, Libby meets charming Brent Henderson, a performing arts student who showers her with attention. But his rival, gorgeous Dean James, is the one who occupies her mind, even though he's very much attached to his current girlfriend.
Libby soon learns there's more to both Brent and Dean than she ever imagined. In order to save her future and the boy who's captured her heart, she must unlock the secrets behind her art by entering the most dangerous place of all… the world within her paintings.
Libby Tanner's not your normal orphan. She can "paint the world like no one else can."
Not a bad catch line for a debut book. The cover is what first caught my eye, like any art piece (thanks to Netgalley for gifting me this book in exchange for my review)
A Michigan orphan--who has already made a fortune with her paintings, goes to a prestigious art school in England....okay a bit of a stretch, right off the cusp, but I can roll with it. Seeing a strange boy mysteriously appearing in her paintings........still okay and very intriguing. Getting to this school and never actually having a real class besides painting in her room all alone.......now you've lost me.
That doesn't even take into account the lack of adult presence at a school filled with hundreds of kids! I can't really say I liked CANVAS BOUND much, not because it was a bad story, but because it was so unbelievable, impractical and not well detailed or plotted. And the romance--way to forced and insta in a bad way. The love triangle was uncomfortable and didn't feel real, and so was most of Libby's relationships with the other characters. The most intriguing aspect of CANVAS BOUND was the back story of Libby and her real family. That is what saved this one from a worse rating.
I don't like writing these kinds of reviews, and I had hoped after sitting this one down for a while I'd like it more when i picked it up again......but no such luck.
Overall this felt very beginners fan fiction, very contrived and unfortunately--kinda something that was just out in the middle of no where. This story had great promise, and I think had the author/editors taken a more critical view of it in editing, we could have gotten a book that would hit much higher on the scale and be a stand out in YA.
Again, sorry for the harsh review, but I have to be honest. I wish Laura M. Kolar all the best in her future as an author!
Caio~
~DynoMoon