Review Gates of Thread and Stone (Gates of Thread and Stone #1) by Lori M. Lee
3:00 AM
Hey Addicts! I am here with a review of GATES OF THREAD AND STONE courtesy of the author herself, Lori M. Lee. I received my copy of this book through NetGalley in exchange for my honest opinion, so here we go! But first, read a little more about this book.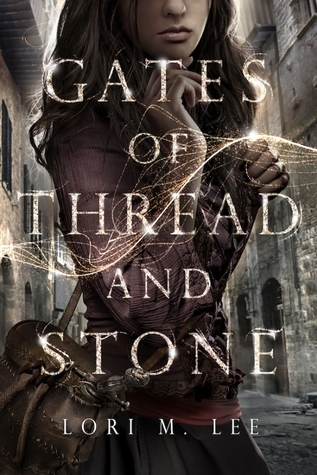 In the Labyrinth, we had a saying: keep silent, keep still, keep safe.
In a city of walls and secrets, where only one man is supposed to possess magic, seventeen-year-old Kai struggles to keep hidden her own secret—she can manipulate the threads of time. When Kai was eight, she was found by Reev on the riverbank, and her "brother" has taken care of her ever since. Kai doesn't know where her ability comes from—or where
she
came from. All that matters is that she and Reev stay together, and maybe one day move out of the freight container they call home, away from the metal walls of the Labyrinth. Kai's only friend is Avan, the shopkeeper's son with the scandalous reputation that both frightens and intrigues her.
Then Reev disappears. When keeping silent and safe means losing him forever, Kai vows to do whatever it takes to find him. She will leave the only home she's ever known and risk getting caught up in a revolution centuries in the making. But to save Reev, Kai must unravel the threads of her past and face shocking truths about her brother, her friendship with Avan, and her unique power.
FACEBOOK
TWITTER
AUTHOR BLOG
GOODREADS
MY REVIEW:
GATES OF THREAD AND STONE by Lori M Lee, what can I say: the cover got me again! Beyond
gorgeous-very well done for a book coming from an Amazon imprint. But sadly, for me, that's the highest point. The blurb and first few pages seemed to promise an epic like world of fantasy and action and drama-
a big reason I wanted to read this book so much- but overall I felt let down. I think there was
the
potential to knock my socks off, but for me, it just never happened.
Let's hit
the
high points:
Kai- she was a pretty cool main character, if not slightly selfish at points (I'll hit this on the next list). She has a cool power, a fun personality and she was relateable.
The concept of time--being threads and rivers--was a really creative and interesting idea. It seemed well thought out because it just made a lot of sense, especially with Kai's power to manipulate time.
Avan- very hunky male lead with a nice dose of protectiveness towards Kai. It took me a hot second to really get into him, but when I did- oh boy!
World building- this one is actually a double edged sword for me. I think Lori M Lee did a good job building her world, I still had my issues. Ninurta was very visual and pretty and easy to imagine- always a plus. The Labyrinth was my favorite part (if not pretty similar to other books involving labyrinths) I really got a feel for that part of the book and even found myself wishing to be there--just to visit though!
And now the low points:
World Building: while very nice and visual I felt it was too similar/stereotypical of the fantasy genre. I wanted a world that didn't make me think of Tamora Pierce's, Carie Ryan's or Sarah J. Maas's book universes- just to name a few of the similarities I kept hitting. Fantasy is so great because you can make the worlds anything you want them to be. I just think Lori M. Lee could have made her world a little more of her own, rather than one that feels like it's drawn from other books.
The romance. I can't say exactly what it was that made the romance between Kai and Avan feel off. I love romance in my books, but I felt like this one was maybe too much in the forefront? Also I found myself getting annoyed with how Kai kept convincing herself Avan didn't care about her. I think friends/adventure buddies would have been better for this book.
Pacing/Plot- all over the place, and pretty boring at times. Yet some parts felt rushed while others felt needlessly drawn out. And because the plot was a little scattered some scenes just didn't fit. I felt like the fact her brother was kidnapped should have been played up more.
Kai-as much as I liked her, she had her moments I wanted to rip her out of the book and hit her on the head and say "girl get it together, you're not this stupid". She kept wavering on her feelings for Avan and really didn't treat him as well as she should have, considering all he did for her. Plus she had a kick butt power to control time, yet it's hardly ever used. That seemed like a big wasted opportunity to make this book really soar and hit the next level. Plus for how loyal she is, and how she's all about finding her lost brother Reev, there are times where the romance seems more important to her.
Sadly, for all the potential I think this series could have, I don't think I will be reading the second book in this series. There are definitely very strong points in GATES OF THREAD AND STONE that made it enjoyable. There's just too many things that I had issues with to make me want to read the next book.
Now, this is only my opinion! There are plenty of people who like this book, and if you are a fantasy fan, I would suggest borrowing this book to read it, then decide if you want to buy it.
About the author:
Lori is an avid writer, reader, artist, and lover of unicorns. She should probably spend less time on the internet (but she won't). She has a borderline obsessive fascination with unicorns, is fond of talking in capslock, and loves to write about magic, manipulation, and family. She lives in Wisconsin with her husband, kids, and a friendly pitbull.
Thanks for stopping by Addicts! I hope this review was informative. I will be back soon with another review for you all :)
~Dynomoon