Review The Girl at Midnight by Melissa Grey
10:00 AM
Hey Addicts, it's time for a review of THE GIRLS AT MIDNIGHT by Melissa Grey! It just came out last week YAH!! I was lucky enough to receive an ARC in exchange for my honest opinion so here we go. Read on Addicts :)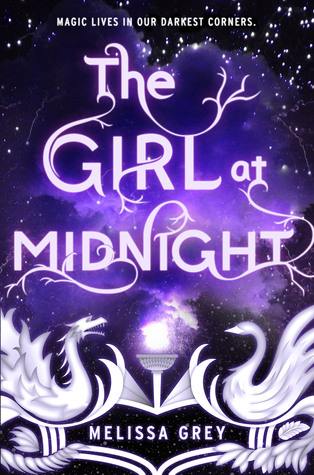 The Girl at Midnight
Beneath the streets of New York City live the Avicen, an ancient race of people with feathers for hair and magic running through their veins. Age-old enchantments keep them hidden from humans. All but one. Echo is a runaway pickpocket who survives by selling stolen treasures on the black market, and the Avicen are the only family she's ever known.

Echo is clever and daring, and at times she can be brash, but above all else she's fiercely loyal. So when a centuries-old war crests on the borders of her home, she decides it's time to act.

Legend has it that there is a way to end the conflict once and for all: find the Firebird, a mythical entity believed to possess power the likes of which the world has never seen. It will be no easy task, though if life as a thief has taught Echo anything, it's how to hunt down what she wants . . . and how to take it.

But some jobs aren't as straightforward as they seem. And this one might just set the world on fire.
MY REVIEW:
Something that has never happened to me before happened while I was reading THE GIRL AT MIDNIGHT by Melissa Grey. I DIDN'T GET TO FINISH! I was fortunate enough to receive an ARC of the book from the publisher via Netgalley, but before I could finish the last 12 chapters the book archived and now I can't see what happened. Talk about a mean tease.
But I will however review what I did get to read of this new YA series. Up until the book was archived, i was enjoying THE GIRL AT MIDNIGHT. I liked the world building, it was richly detailed without being to over the top. Yes I did draw a lot of similarities to the MORTAL INSTRUMENTS but, oh well. I loved how Melissa used the magic in her world. The whole magic dust thing to put on a door so you can transport from place to place--anywhere in the world-- was great. Like give me some right now great!
The detail of the two races Melissa created was enough to help me get past my similarities issues. The two races, 1-the Avicean- a race of bird people (they were really cool with their feathers for hair) and 2-the Drakharin- a race of dragon people (some with major personalities!) were awesome. At first I thought the Avicean's were so cool then the Drakharin showed up and bam, they're my fav's. Okay maybe that was because of Caisus, but I'll touch that hottie in a second.
First the heroine, Echo! I like that when we met her she was stealing a wallet and squatting in a public library--okay that was sad-- but the next part, where she lifts an Avicean woman's wallet but gets caught is great. Why you ask, because that woman took Echo in and told her that names have power and that Echo should choose one, thus she chose Echo! I really appreciated that Echo came off as her age, not too mature or too young and annoying. It was a really nicely executed thing.
WARNING: this book POV hops and is in the 3rd person. Me personally, I love that style of writing, I think you get more as a reader and it keeps the author from having to do silly cop out like scenes so the reader can put two and two together.
Echo is a character with a balance of loyalty, snarky sassiness and relentless determination to do what she thinks is right. You gotta give props for a determined character who doesn't waver. She's also very logical at times, which is a big bonus when you're searching for a "firebird" that both races want that has the power to stop the centuries long war raging between the two races.
Now we get to Caisus. The fallen prince and former ruler of the dragon people. His sister ruthlessly booted him out of power. So he decides to go off and find the firebird with his motley crew and runs into Echo and her crew. Together they all search for this magical firebird.
The whole host of secondary characters was kinda vast but I liked most of them. They all seemed to have something to add to the story.
I will also give credit to Melissa for taking THE GIRL AT MIDNIGHT to some "dark and touchy" places. She did a great job of making the scenes tasteful enough and being sure that they added to the overall plot. She didn't just drop them in for the sake of dropping them in.
My few hits for this story was that while nice and fun, it wasn't VERY original. There were a LOT of comparisons that could be drawn to other popular YA books. The beginning of the book was also slow and kinda like okay, did I forget my coffee? Maybe these chapters need the espresso shot with a side of red bull. Sadly, since I haven't gotten to finish the book, because of it archiving in Netgalley (and me not having enough time to sit down and get it finished) My review can only be based on what I've read so far. Once I get some free time to go sit at the book store and finish the last dozen or so chapters maybe my rating will go up.
I would definitely recommend this book to fans of YA paranormal, urban fantasy and adventure lovers! Guess next time I just need to be a faster reader :)
Till next time Addicts!
~Dynomoon
Melissa Grey penned her first short story at the age of twelve and hasn't stopped writing since. As an undergrad at Yale, she learned how ride a horse and shoot a bow and arrow at the same time, but hasn't had much use for that skill since graduating in 2008.
Her debut novel, THE GIRL AT MIDNIGHT, will be published by Delacorte/Random House in spring 2015.
To learn more about Melissa, visit melissa-grey.com and follow her on Twitter @meligrey.